We brought back your favorite events and added some exciting new events for 2022!
Wine and Popcorn Pairing
Time: 6:00pm
Location: I/G Winery
Cost: $TBD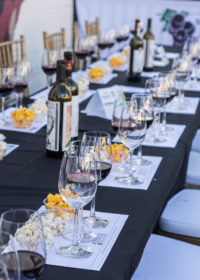 Join hosts Jim Santangelo and David McCurdy as they present this fun and educational gathering pairing Utah wines with different flavors of popcorn. Yes, you read that right, popcorn and wine. Trust us, you'll be amazed at how fun this is.
Tickets go on sale: July 1, 2022.
The Spirits of Utah
Time: 7:30pm
Location: I/G Winery
Cost: $TBD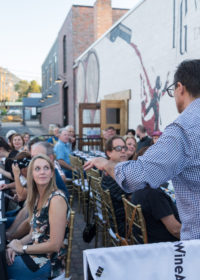 Join Jim Santangelo as he walks you through a tasting of Utah produced spirits, giving you all the fun details about the history of the spirit and Utah's own fascinating love/hate relationship with them.
Tickets go on sale: July 1, 2022.
Culinary & Carbonic
Time: 6pm
Location: Water Canyon Resort Winery
Cost: $TBD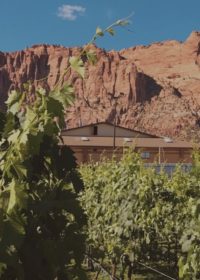 This food and wine event brings together the culinary craftsmanship of 5 amazing chefs paired with the delectable flavors of Water Canyon Resort Winery's carbonic style wines, to create a food and wine event like no other.  Plan to join owners Shane and Kalie Tooke at Water Canyon Winery in Hildale for this night of passed plates, live music, fireside conversations and Shane's amazing Utah wines.
Why not make a night of it? Book a room at Water Canyon Resort by following this link www.watercanyonresort.com They have special rooms set aside for ticket holders that want to enjoy the whole Water Canyon Resort experience.
Tickets go on sale July 1, 2022
Saturday September 3, 2022
Wine Competition
Time: 10:00am
Location: I/G Winery
Cost: FREE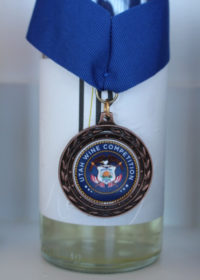 This is a free event and open to the public.  Come and watch our judges at work as they taste through the many different wines exclusively from Utah Wineries and Cideries. See how your favorite Utah wines score and what medals they receive.
Flights & Bites
Time: 3:00pm
Location: Farmers Market
Cost: $TBD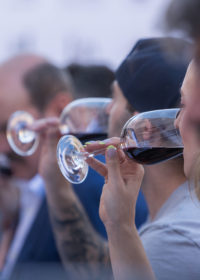 Ticket holders for this event will join the wine judges at a private table and taste through some of the wines from the competition. Enjoy a small plate of bites that pair with the wines and discuss with the judges why they scored the wines the way they did.
Tickets go on sale: July 1, 2022.
Farm to Fork Dinner
Time: 5:30pm
Location: Red Acre Farm
Cost: $TBD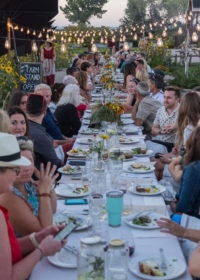 Always one of our most popular events, this amazing dinner takes place at Red Acre Farms.  You'll enjoy a wonderful five course meal prepared by farm owner and chef Sara Patterson from fresh ingredients grown right on the farm and served family style to your table.  Each course is partnered with the perfect Utah wine that brings joy to the tastebuds.
Tickets go on sale: July 1, 2022.
Epicurean's On The Edge
Time: 5:30pm
Location: Beautiful outdoor locations.   Just off the edge of the Grid.
Cost: $TBD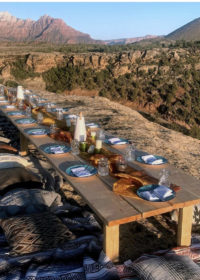 Experience the culinary artistry of Chef Jeff Crosland as he presents one of his amazing Off-The-Grid gourmet meals paired with the wine artistry of Utah's winemakers. This year we will be dining at the top of Cedar Mountain, right beside Linford's pond. Enjoy this special meal as you watch the sunset as the lights of Cedar City slowly appear in the valley far below.
Tickets go on sale: July 1, 2022.
Picnic in the Vineyard
Time: 11:00am
Location: Chanela Vineyards
Cost: $TBD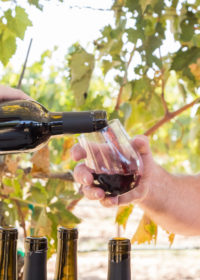 Once each year, Chanela Vineyards opens up its mountain vineyard for you to enjoy.  The brewmasters from Silver Reef brewery then throw some fresh beef and pork on the grill for some awesome BBQ sandwiches along with all the picnic fixings.
Walk among the vines to 3 different stations and try the wines made from grapes grown right there. Meet the Utah winemakers and talk winemaking with the men and women that are building the Utah wine business.  If you love vineyards, and who doesn't… you'll love this event.
Tickets go on sale: July 1, 2022.
Grand Dinner on Center
Time: 6:30pm
Location: Center Street Cedar City
Cost: $TBD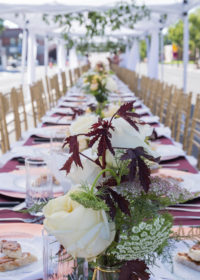 We close down Center Street and set up a table the length of the block in order to serve this immersive dinner experience. You'll be greeted at the entrance with a glass of wine as our Maître d' takes you to your seats.  Sit down, relax, chat with old friends and make some new ones as you enjoy the food of renowned Chef's, Cole Chiaramonte and Alex Wiesen perfectly paired with several outstanding Utah wines
Tickets go on sale: July 1, 2022.
Spirits & Cigars Under The Stars
Time: 9:30pm
Location: I/G Winery's Backyard
Cost: $TBD
Join host Jim Santangelo as he walks you through the proper ways to prepare and enjoy a cigar while you pair it with the perfect spirits intended to accentuate the flavors of each. This is the perfect way to relax and unwind at the end of the festival and learn a little about cigars and spirits while you do.
Tickets go on sale: July 1, 2022